The real deal about Vehicle Wraps

ACCORDING TO WIKIPEDIA, Wraps are literal "MOVING BILLBOARDS."
The return on vehicle wraps is said to have a 300% investment return. It's crazy, but incredible for the visual promotion of your business or organization.
Recent advancements in vinyl development have led to new types of vinyls specifically for doing wraps, such as vinyls that feature air channels to prevent bubbles, and microscopic glass beads that prevent the adhesive from taking hold until squeegeed down. This feature allows the material to be lifted and reapplied as needed during the wrapping process, without compromising the longevity of the wrap. Vinyl is heated with a heat gun or torch to mold around objects.[3]
Decals can be made to cover side and rear windows on a vehicle, though for obvious safety reasons, the front windows used by the driver are not covered. The decals on side windows are typically perforated so that it is still possible for passengers to look outside. A wrap must often be divided into a number of smaller pieces to appropriately cover any movable panels on the vehicle, such as the fuel tank cover, trunk (boot) openings, and other doors.
(Link source from WikiPedia.com)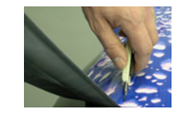 Wrapping is also sometimes used instead of paint as a less-permanent way of applying its operator's standard livery than paint. This has become particularly common (to where) it has become quite frequent for trains to be transferred from one company to another and thus require many changes of livery. Wrapping is also used for vehicle customizing and mobile advertising.
Race cars opt for vehicle wraps in that it is lighter than paint.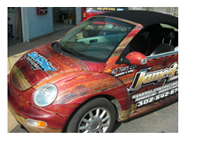 Vehicle wraps are now used in place of expensive custom paint jobs. In addition to being a lower cost option to paint, the vinyl can be removed when the advertising campaign is over or you are ready to turn in your leased vehicle. This article will take you step-by-step through the process of installing a full vehicle wrap. It will offer tips and tricks on how to provide your customer with a high quality wrap
In the past, full wraps were reserved for large corporations that wanted to mark their fleet. These graphics were generally created with the screen print process in very large quantities. The Digital evolution has changed all that! As the quality of digital printing improved and the equipment price went down, digital has become a staple within the graphics industry. As digital became more popular these large fleet companies and screen printers began to see the benefit of creating shorter run graphics that can be customized by region. This eventually evolved to wrapping smaller trucks and now vehicles.
(Link Source from SignIndustry.com)

Since 2004, we've been providing signs, commercial truck lettering, auto wraps, fleet graphics and logo design solutions to hundreds of businesses in Milford Delaware and surrounding areas.
With over 30 Years in the automotive industry, Jim Burke, Owner and President of Xtreme Graphix produces a quality of workmanship.